Corporate Philosophy
JESCO's aim is to create new value in the fields related to "light", and we contribute to the realization of a rich heart, a rich society, and a wonderful future.
Slogan
Illuminate has meaning of "enlighten" ,and for the "illuminate the future", we believe that it is important for all the people involved to work hard together.
Jesco' s 2 main core units
Devise Business
Electronic Components
Modules
Development
Design
Signage Business
Signage Planning
Bo-TaLe(Designed Smoke proof hanging wall)
Spatial Presentation
Lighting
Jesco has 2 core business units; the Device business, which mainly engages in sales of electronic components and modules, and the contracted development and design of electronic components and modules, and the Signage business, which mainly sells sign-related components, signage planning, lighting, and other parts for Spatial Presentation.
Collaboration with Partner companies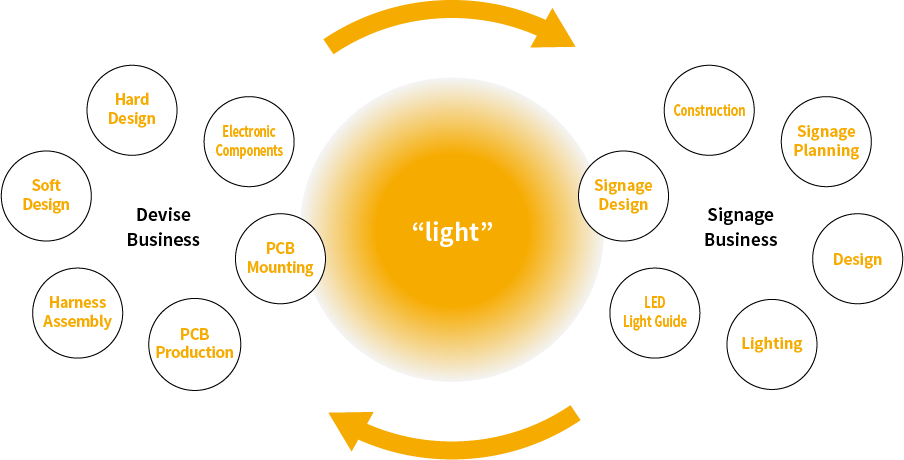 Jesco is working with partner companies in various fields to broaden the range of proposals for solving customers' problems.
Company Profile
Company Name
JESCO CO.,LTD
President
Masatoshi Tanaka
Founded
May 25,1987
Capital stock
\39,250,000($356K)
Key businesses
Sales Electric Components
Sales LED Lighting and LED Display Components
Bank
Mitsubishi UFJ Bank Kanda Branch
Sumitomo Mitsui Bank Kanda Branch
Resona Bank Kanda Branch
Construction Business Licens
Tokyo :#148605
Address

●

Head Office

THE HILLS HONGO 2F, 2-17-12, Hongo,Bunkyo-ku, Tokyo-to,Japan, 113-0033

TEL:+81-3-3830-1100

●

JESCO INTERNATIONAL (H.K.)LTD

Unit 1108, 11/F, Houston Centre, No.63 Mody Road,

Tsim Sha Tsui East, Kowloon, Hong Kong

TEL : +852 2947 0640 FAX : +852 2330 6866